Brake Repair
Brake-Check Yourself, With Professional Repair from Lithia Ford of Missoula
City drivers in the Missoula, Hamilton, Frenchtown, Stevensville, Ronan, and Kalispell, MT areas put their brakes through a lot of daily stress, with the near-constant stop-and-go traffic. And, depending on your driving habits, you could be putting a lot more wear and tear on your brakes than you think.
At Lithia Ford of Missoula, we think that the best defense is a good offense. So even if your Ford model has only seen a few thousand miles, or your used car, truck or SUV doesn't get driven many miles, don't ignore the signs of worn brakes!
What are the signs? The most obvious is a brake light on the dashboard, alerting you to a potential problem. Other signals, more subtle but equally as serious, include a slow-to-respond or "spongy" brake pedal, a grinding or squealing sound when you brake, or a grinding feeling in the steering wheel or brake pedal. If you notice any of the above, or you're questioning your brakes at all, then the damage may already be done. Don't wait. Schedule an appointment at our Lithia Ford of Missoula service center to get your brakes checked. Prevention and early detection could not only extend the life of your brakes, it could mean the difference between a safe stop or a dangerous slide.
Repair isn't the only service your brakes need, as they also need periodic maintenance. With time, your brake fluid can retain water. This water can reduce the boiling point of the brake fluid, and boiling brake fluid can cause big issues in the brake system. Additionally, water can result in the brake lines rusting. This rust can contaminate the brake system and cause the internal seals to fail.
Browse our current Service Specials to see if you could save on brakes or brake repair service at Lithia Ford of Missoula.
Tire Rotation
Roll in Style with Fresh Tires from Lithia Ford of Missoula
Whether you want to buy new tires for your used car, custom all-season or winter tires for your new Ford model, or you just need a quick tire rotation in Missoula, Hamilton, Frenchtown, Ronan, Stevensville, or Kalispell, MT, then Lithia Ford of Missoula has what you need.
Our parts department is well stocked with tires, wheels, and rims for whatever your car needs to stay running smoothly on any road. And our service center is staffed by auto repair experts who can help you find exactly what you need. We can rotate your tires to help maintain an even wear on newer tires, we can re-inflate and patch a flat, and we can swap your summers or all seasons in no time. At Lithia Ford of Missoula, we know that your time is valuable, so we offer fast, convenient, and affordable service.
Want an extra boost of consumer confidence? Explore our New Tire Protection Pledge available at Lithia Ford of Missoula. We're so confident in our prices and our service, that we'll match competitor prices on the brands that we sell, including Dunlop, Goodyear, Bridgestone, and more! Please see page for details.
Once you have your new tires installed, make sure to maximize their life with timely and regular maintenance. Yearly rotations and balances and periodic alignments can help them wear evenly. Additionally, checking the tire pressure once a month and adjusting it as needed can help prevent uneven wear,
If you have a question about the New Tire Program, a specific brand or type of tire, or you'd like a quote, call our parts department at (844) 204-4012 or stop by our Missoula dealership at 3943 Brooks St. We're always happy to talk tires with our customers.
Oil Change
Is Your Car Thirsty for an Oil Change? Come to Lithia Ford of Missoula for Relief!
Engine oil seems so simple (and it is!) but it can be easy to forget about it as you drive along, mile after mile. But clean, quality oil is the absolute life of your engine, and without a healthy supply, your engine is not getting the "nutrition" it needs!
Regular oil changes are a great preventative measure against future problems for your new car, but are especially important for high-mileage used cars in the Missoula, Hamilton, Frenchtown, Ronan, Stevensville and Kalispell, MT areas. Old or dirty oil is not providing optimum lubrication for the well-being of your engine.
If you're not sure when your next oil change is due, or you can't remember the last time you had your oil and filter changed, come to Lithia Ford of Missoula. Our professional service center has years of experience working on new Ford models so we are well-versed in their factory-recommended maintenance schedules. Each manufacturer has its own recommended intervals for oil changes. Some recommend changing the oil and filter every three months or 3,000 miles, while others claim that their cars can go up to 12,000 miles between changes.
Along with changing the oil and filter, this service gives our technicians an opportunity to look over the major systems of your car for any faults. If our tech finds an issue, he will alert you of its severity and provide you with an estimate for repair.
For extra convenience, check out our Lifetime Oil Change Program. Choose a plan that works best for you, and enjoy professional service at Lithia Ford of Missoula, or at any Lithia service center around the country. If you are still wondering about our oil change service, please give us a call or stop oby the shop to have all of your questions answered.
Ford Quick Lane
Is Your Ford Ready for Quick Lane® at Lithia Ford of Missoula?
Quick Lane® Tire & Auto Center provides all the services your car or truck needs most, at over 650 locations nationwide. All our services are performed by factory-trained experts and on your schedule. You'll never need an appointment and you'll get service while you wait, even on evenings and weekends. Plus, we'll take care of any make or model, using quality parts from trusted brands like Motorcraft® and name-brand tires from Goodyear, Continental Tire, Michelin and more. Give us a try and you'll see why life is better in the Quick Lane.
Auto Service from Quick Lane® Tire & Auto Center
The factory-trained auto service technicians at your local Quick Lane® Tire & Auto Center will thoroughly inspect your vehicle's key components and systems from top to bottom, and then give you an in-depth Vehicle Check-Up Report that will help you easily monitor your car's or truck's maintenance needs. As with any Quick Lane® Tire & Auto Center service, no appointment is necessary, so come in anytime.
Tire Buying, Care & Maintenance at Quick Lane® Tire & Auto Center
Whether you're shopping for the best price on a new set of tires for your car, truck, hybrid, crossover or SUV, or are simply looking for a quick tire repair, tire rotation, wheel alignment or tire inspection, make sure you visit your local Quick Lane® Tire & Auto Center. When you purchase tire(s), the following services are typically included:*
Tire inspection for proper inflation and wear
Tire rotation
New-tire installation
Tire mounting and balancing
Disposal fee*
State taxes*
Our factory-trained experts know all the ins and outs when it comes to your tires and have the right replacements on hand, based on your requirements. They can also help you get the most out of your tires with simple maintenance tips.
We offer 13 name-brand tires, including Michelin, Goodyear and Continental Tire. On top of all that, we offer our Low Price Tire Guarantee**.
Michelin
BF Goodrich
Uniroyal
Goodyear
Dunlop
Kelly
Continental
General
Hankook
Pirelli
Bridgestone
Firestone
Yokohama
*There may be additional charges. Be sure to ask your Quick Lane® Tire & Auto Center representative to explain items on your statement.
**Requires presentation of competitor's current price ad/offer on exact tire sold by Quick Lane® Tire & Auto Center within 30 days of purchase. See Quick Lane® Tire & Auto Center Manager for details through 12/31/14.
Oil Change Service
Getting an oil and filter change at your local Quick Lane® Tire & Auto Center helps keep your engine clean and properly lubricated, so it can run more efficiently. Our factory-trained technicians offer high-quality oil and filter products that are right for your vehicle. Put it all together and it can even help improve your gas mileage and extend the life of your vehicle. You have three choices to get the maximum value out of your oil change. Each one offers high-quality oil and filter products from Motorcraft® that are right for your vehicle and can even help improve your gas mileage and extend the life of your vehicle.
Good choice: Oil & filter change

Quick Lane® Tire & Auto Center uses premium-quality Motorcraft® Synthetic Blend Oil with specially designed performance additives. It helps minimize damage-causing deposits, rust and corrosion and provides excellent wear protection.

Better choice: The Works Fuel Saver Package

With The Works, you get an oil change and a whole lot more, including a tire rotation, brake inspection, battery test and a Vehicle Check-Up Report to help you monitor your vehicle's maintenance.

Best choice: Vehicle-specific scheduled maintenance

There is no better way to take care of your vehicle than to follow the recommendations in your vehicle's maintenance schedule, found in your owner guide and available on quicklane.com for certain vehicles. Whether it's an oil change, spark plug replacement, engine coolant flush or anything else, Quick Lane® Tire & Auto Center can take care of it all while you wait.
Brakes
Your brakes are your vehicle's most important safety feature, but just because they're stopping your vehicle doesn't mean they're working their best. In order to stop your car or truck safely, brakes are designed to slowly wear as you use them. That's why regular maintenance of your brake system is so important. Visit your local Quick Lane® Tire & Auto Center anytime for service while you wait and we'll make sure to keep your vehicle stopping. Plus, we offer high-quality brake products and brake fluid.
Battery Test
An old car battery can stop you cold. If you're not sure whether your battery is worn out, stop by your local Quick Lane® Tire & Auto Center for a battery test. We'll see if it's ready for another season. Plus, if you need a new one, we stock the batteries that are right for your vehicle.
Quick Lane® Tire & Auto Center carries car batteries that are:
Manufactured to the highest quality standards and latest technologies in design and engineering
High quality at competitive prices
Have excellent warranty coverage
Cooling System
Warm weather can take a toll on your vehicle, and a malfunctioning cooling system can lead to overheating and damage to your radiator. Visit your local Quick Lane® Tire & Auto Center anytime to have factory-trained auto service technicians inspect your system and replace any damaged or worn components. This will keep your engine protected during warm months and will provide you with peace of mind.
What's included?
Check hoses for damage and leaks
Monitor operating temperatures
Belts and Hoses
Worn-out or broken belts and hoses are some of the most commonly overlooked causes of disabled vehicles. Visit your local Quick Lane® Tire & Auto Center anytime and our factory-trained experts can inspect all your belts for wear and your hoses for leaks. Plus, we have a full range of quality replacement belts and hoses on hand.
What's included?
Inspect belts for wear and cracks
Test for correct belt tension
Check hoses for leaks and cracks
Pinch-test of hoses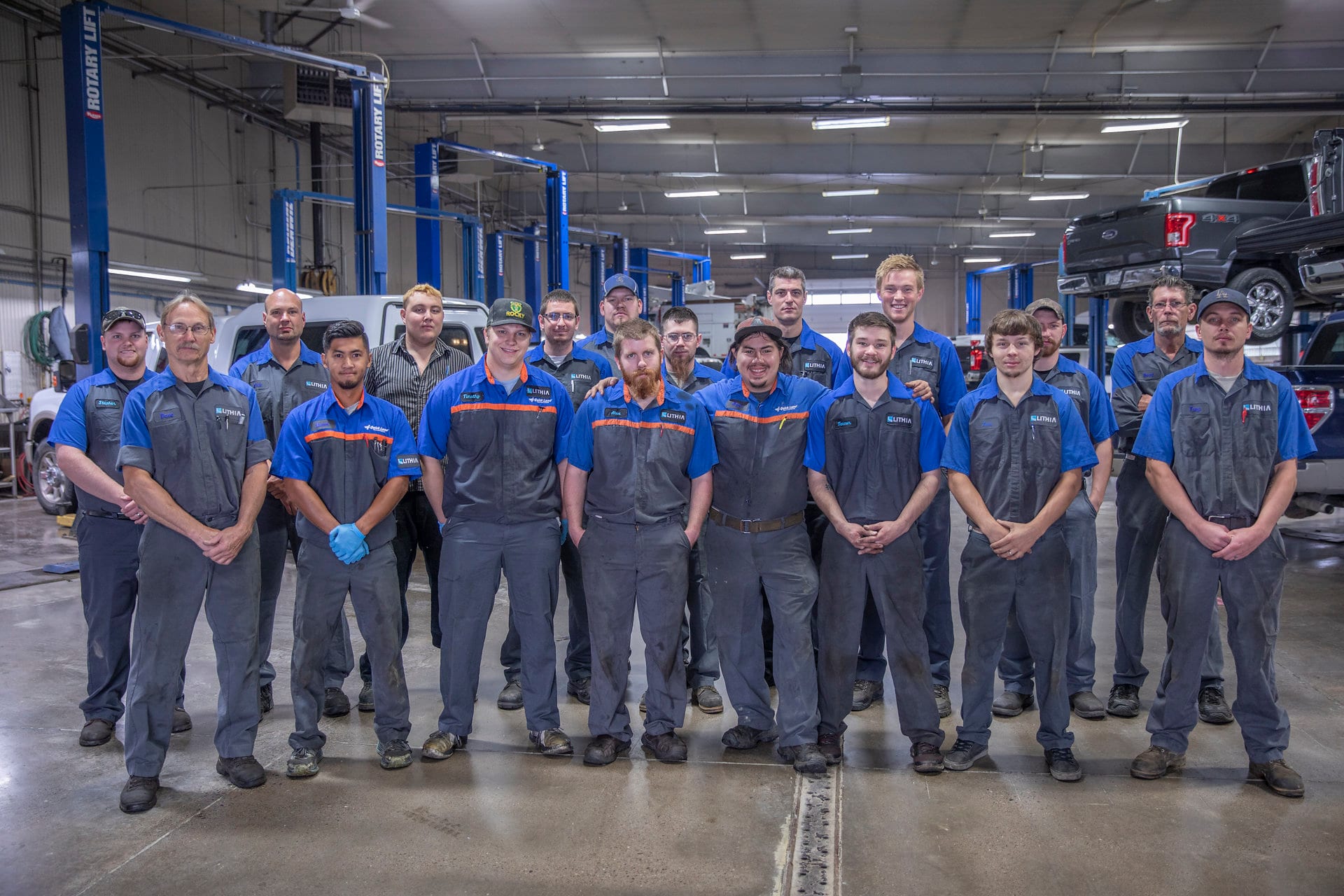 Make Sure Your Ford Will Perform for Longer
When you own a Ford you are getting a car with a long lineage of excellence, reliability, and flawless performance. Ford models can capably tackle more types of roads and driving all over the United States! This is the result of the hard work that Ford has been doing for more than 100 years. Here at Lithia Ford of Missoula in Missoula, MT we are proud to be an extension of this historic automotive brand!
While Ford cars and trucks have history on their side of being so reliable, you can ensure that their maximum longevity and performance are met with service and maintenance from trained technicians. The service center here at Lithia Ford of Missoula is the perfect place for you and drivers just like you to get your Ford serviced and maintained!
A Lasting Commitment to Excellence
One of the best parts about our service center is that our staff members know Ford cars and trucks so well. This in turn will give you a sense of confidence that we will tackle the issues with your Ford. Whether you are coming to our service center for a routine service visit like an oil change, tire rotation, or multi-point inspection, or visiting for a big issue like an engine component repair, transmission repair, suspension repair, or anything in-between, we will handle it. Plus, with our use of genuine Ford parts and our commitment to offering you the best deal possible with Service Specials and our service center is the best place for you!
Finding the premier service center to tackle servicing your Ford is incredibly easy when you are a driver in Missoula, Florence, MT, Stevensville, or Lolo thanks to Lithia Ford of Missoula. Take a look at everything we can do for you and schedule your next service appointment today! See you soon!
We are proud to attend to the needs of drivers all over the Missoula, Hamilton, Ronan, Stevensville, Frenchtown and Kalispell, MT areas, with expert service and OEM car parts and accessories. We believe in providing affordable, convenient auto service to drivers; check out our Lifetime Oil Change Program to see how you could help your Ford model stay running smoothly on an easy-to-track schedule, or ask about our New Tire Protection Pledge to be a truly confident shopper.