2019 Ford Mustang
Find Yours
View Specials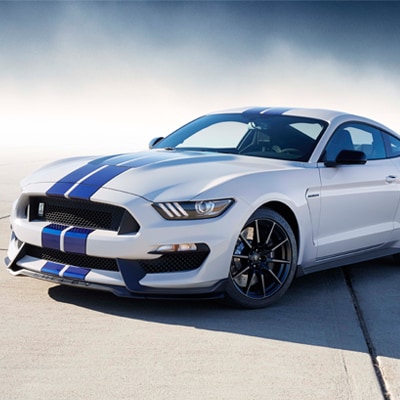 Iconic Style
Prepare for People to Stare
With its sleek look and aggressive nature, there's no denying that the Ford Mustang is a true, automotive icon. Not only does every model come standard with HID headlamps and signature LED tri-bar taillamps with sequential turn signals, but you can also expect to find dual exhaust pipes and air extractor hood vents. And to ensure that this year's model matches your own unique style? This year's Mustang offers 12 available wheel designs, ranging from 17 inches to 20 inches, for new car shoppers to choose from.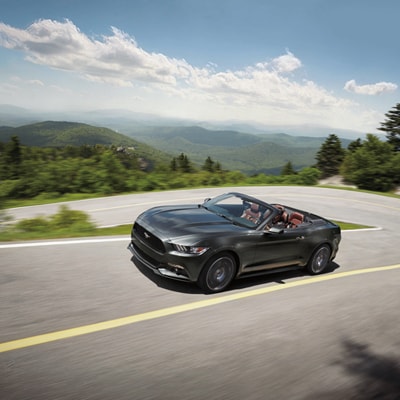 Exciting
Feel the Wind in Your Hair
Maybe, when it comes to shopping for your next vehicle, you've got your heart set on one that's ready to drop its top for a day in the sun. Fortunately, when you opt for the 2019 Ford Mustang Convertible, you'll be sure to enjoy having the wind your hair and the sun on your face. Not only that, but electrically driven for quick operation, this convertible features a center latch to ease opening and closing without making any compromises when it comes to both interior and cargo space.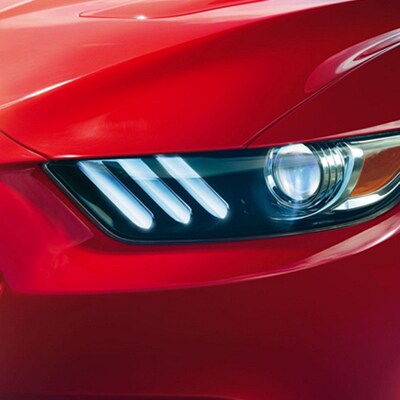 Signature Features
Enjoy HID and LED Signature Lighting
There's no denying that the 2019 Ford Mustang is a recognizable vehicle. Boasting a look that's all its own, this year's Mustang is the kind of vehicle that garners looks wherever it goes. Adding to that, are high-intensity discharge headlamps along with signature LED lighting and LED tri-bar taillamps that feature the iconic Mustang sequential turn signals. Boasting such a distinctive look, you'll be sure to enjoy every moment that you spend behind the wheel of this year's new Ford Mustang.

More Features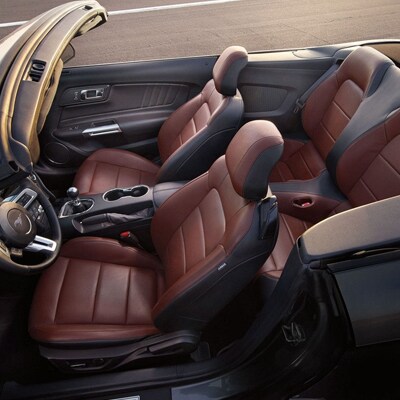 Comfort
An Interior that Puts the Driver at its Forefront
Settle in to the driver's seat of the 2019 Ford Mustang, and you'll find that the interior of this year's model was designed with your every daily driving need in mind. While the steering column manually telescopes and tilts, the shifter allows for enough clearance for you to access the vehicle's many controls. Meanwhile, strategically placed cupholders are perfectly positioned outside of the shift path. Not only that, but you'll also enjoy a wealth of knee and leg room every time that you get behind the wheel.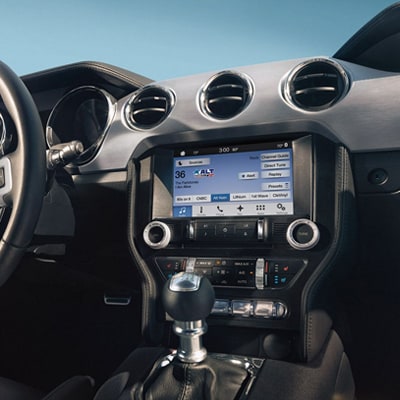 SYNC Connect
Enjoy the Benefits of SYNC 3
Opt for a new Ford Mustang outfitted with SYNC 3, and you'll enjoy the many benefits that come along with this voice-activated infotainment system. With an easy-to-read color touchscreen, SYNC 3 provides access to your mobile phone, audio system and available navigation features. From a light tap on the touchscreen to utilizing the vehicle's many voice commands, you'll be able to utilize each of SYNC 3's many features without ever having to take your eyes off of the road.