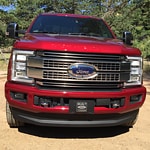 At the risk of echoing that old cliche, with great power comes great responsibility. Lithia Ford of Missoula operates on this axiom and so does the Ford Super Duty Truck, one of the most popularly, eminent vehicles on the road. Driver assist technology infusion means more productivity throughout those long work days. Taking command over one of these lets the world know that you can the tough stuff done when others back down.
Towing a trailer down incline, especially on rough terrain, requires veteran level confidence, a host of bad learning experiences, and the Super Duty's automatic descent protection. The truck helps maintains a set speed while it manages braking controls. What about on the Missoula interstate? In one of those sticky lane change situations where you and the heavy duty cargo behind you has to maneuver swiftly or risk missing an exit, blind spot detection enhancements keep everyone safe by measuring space between vehicles at all times.
Ford's Super Duty has a whole host of features not listed here. Don't just take our word for it though. You won't regret taking one for a test drive today.