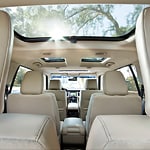 Like its trucks, Ford builds its SUVs for major towing, hauling and comfort. Ford Flex tops the list in each category, defending its status as one of the most popular three-row midsize SUVs on the market. Beyond its power and comfort, Ford Flex also boasts the kind of outstanding technology features that make our Lithia Ford of Missoula team very excited.
Eyes in Back of Your Head
Ford Flex's Cross-Traffic Alert keeps you abreast of vehicles crossing behind you. The feature works on the road as well as when you're backing out of tight parking spots in Missoula. The alert consists of an audible warning on top of visual, flashing warnings in the sideview mirror and the in-cabin message center.
Forward Collision Warning
Sometimes collisions happen faster than your reflexes. Ford Flex's Forward Collision Warning gives you a heads up when a forward collision is imminent. If you can't brake in time, Flex applies full brakes for you, averting disaster.
Feel the full power of Ford Flex's technology features. Schedule a test drive at our dealership today.