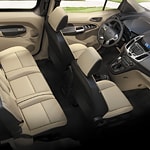 The Ford Transit Connect passenger van has made itself a name when it comes to providing features. This vehicle is filled with benefits that provide an added convenience to your trip.
One front dash console, there is a place that provides a portable charging station for your smartphones that are compatible with the Qi wireless charging system. By simply setting your phone in to the designated are, it will automatically begin charging the device. This frees up your vehicle from the mess of added cables. The dual sliding doors making loading the Transit Connect a breeze. With a step height of under two feet, it is one of the easiest vehicles to step in and out of.
With so many great convenience features it is clear to see what makes the Ford Transit Connect a great choice for those that need a working vehicle that also will work for them.